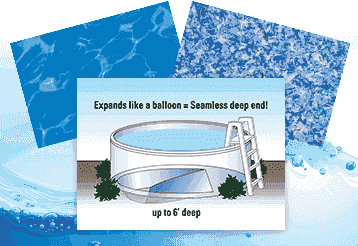 ***PLEASE ALLOW 2-3 WEEKS FOR LINER MANUFACTURING***
Lomart Capri Variable Depth Pool Liner
Lomart Capri pool liner has the ability to expand up 6 1/2 feet, or maintain a flat bottom for standard non deep-end above ground swimming pools. Capri pool liner is designed for overlap installation to accommodate wall heights of 48 or 52 inches tall. Unlike imitation expandable pool liners, Lomart variable depth pool liners have extra thick pool floors with added polymers for maximum stretch ability. Once installed, the liner wall remains in proportion to the pool wall while the pool floor is covered with a wrinkle free, sturdy vinyl liner. Lomart above ground pool liners are heavier than most pool liners in the industry.
Lomart pool liners are manufactured by Doughboy (Hoffinger Industries) at their modern manufacturing facility in Arkansas. They use a special blend of natural, raw materials that ensure top-quality vinyl for all Lomart liners. The ultraviolet inhibitors protect the liner from the sun's rays as well as enhance longer life. In addition, Lomart's quality premium liners are full 20 mils thick on both the sidewall and pool bottom to assure superior performance, All Lomart liners are sealed with Fusion-Weld™ a sealing technique, unmatched in the industry, which provides durability and supreme quality. Lomart is so sure of this sealing technique they give all liners seams the "Strongman" Warranty - 100% for a Lifetime!
Whether you own a Lomart swimming pool or a standard above ground pool, Lomart pool liners will fit perfectly and out perform any other above ground pool liner available.
Features:
Maximum depth of 6 1/2 feet
20 mil. Premium Virgin Vinyl
25 Year Warranty - 3 yr./100% against manufacturer defects and 100% "Strongman Warranty" 100% for a lifetime on the Fusion-Weld seams
Allows for a optional special purpose deep swimming area