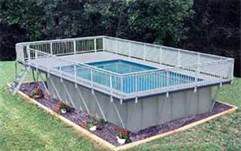 **PLEASE NOTE LINER MANUFACTURING TIMES**
SWIMLINE LINERS 2 WEEKS
Kayak Style Pool Liners
Fanta Sea Pool Liners
We offer the largest selection of Kayak Style replacement pool liners on the internet. These pool liners are NOT manufactured by Kayak Pool Corporation, but are made by after market manufacturers such as Swimline Corp. Every pool liner we offer is made from virgin vinyl, a flexible Poly-Vinyl Chloride (PVC) sheeting containing various additives, i.e. inhibitors for mildew, mold and algae. These additives improve the life and quality of the vinyl by increasing it's resistance to chemicals, detergents, and punctures. Brittleness is reduced and strength, durability and low temperature flexibility is the norm with these high quality pool liners.
The pool liners that we offer for Kayak® Pools will fit like a glove. Why pay more when our replacement pool liners are made by US factories that have years of experience in producing Kayak style pool liners?
Because of the way your Kayak® Pool is constructed, you will not need to take it apart to replace your pool liner. Please note that Fanta Sea pool liners come with a standard bead. Your rectangular pool will look stylish with one of our replacement liners.
Our Kayak style replacement liners come in many different patterns and thicknesses, as well as in a variety of sizes. All pool liners designed for Kayak style pools are available with the standard 48" flat bottom. Your liner will be made to exact specifications. We can have Kayak style liners made with an overlap wall, as well as radius or diagonal corners.
When you order from the choices below, you are ordering a liner with square (90 degree) corners. If your corners are different, please call us to place your order. Our liners fit the older style Kayak style pools that take a single barb bead type.
***If your pool was made 2002 to present, our bead will not work on your pool.***
Order with confidence! We can have a liner made for any sized Kayak® swimming pool. For assistance, please call 1 (800) 918-7665. One of our friendly, knowledgeable staff will gladly assist you.