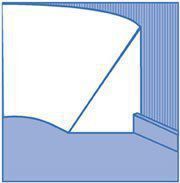 Pool cove strips are a small investment that will add years to the life of your above-ground pool liner! Make sure to place the pool cove strips around the bottom, inside circumference of your pool wall before installing your new liner. The pool cove strips will help prevent excessive stretching and premature wearing. The "Peel & Stick" version has an adhesive backing for quick, easy installation. Pool cove strips measure 3 1/2" x 4 1/2" and are available in 48" lengths.
The Pool Cove Peel & Stick Strips are so easy to install, you should use them anytime you are putting in a replacement pool liner or during a new above ground pool set up.
How many pool cove strips are needed?
Round Pools

Oval Pools

Pool Size

Number Needed

Pool Size

Number Needed

15'
— 12
12' x 16'
— 13
16'
— 13
12' x 24'
— 16
18'
— 14
15' x 24'
— 16
21'
— 17
15' x 30'
— 19
24'
— 19
16' x 26'
— 18
27-28'
— 22
16' x 32'
— 21
30'
— 24
18' x 33'
— 22
33'
— 26
21' x 41'
— 27
Minimum order 5 pieces