Bead Receiver for Above Ground Pool Liners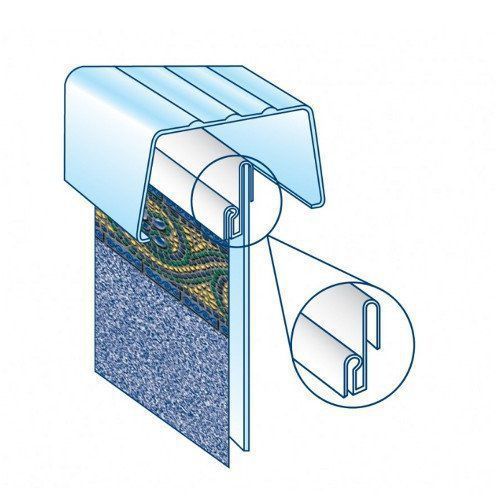 Our bead receivers are an extra long 48 inches, to prevent gaps that can leave the liner with no place to hook into. Made of durable, yet flexible PVC.
What is the difference between a bead and overlap liner? Beaded liners have a thick vinyl bead that installs into a track, much like the installations of inground pools, whereas an overlap liner hangs over the pool wall and is clamped down with a coping strip.
A benefit of beaded liners is apparent when replacing your liner. You will find there is no guesswork in lining up the pattern at the top of your pool liner by using bead receivers. Installing a bead liner eliminates the need to take your pool apart, just snap out the old liner and snap in the new one! Bead Receiver strips are 48 inches long.
To determine how many bead receiver strips you will need, multiply your pool's diameter in inches by 3.141 then divide by 4.
See chart for examples.
Round Pools
Oval Pools
12'
— 10
15' x 10'
— 11
15'
— 12
18' x 12'
— 12
18'
— 14
20' x 12'
— 14
21'
— 17
24' x 12'
— 15
24'
— 19
24' x 15'
— 17
25'
— 19
25' x 15'
— 17
27'
— 22
30' x 15'
— 19
28'
— 22
32' x 16'
— 19
30'
— 24
33' x 18'
— 22